News & Events
21 Days of Winning
Congratulations to Jeff Grieve, ITS - our final winner in the UW daily prizes. Jeff wins a pass for two North American-wide tickets with WestJet.

Congratulations to all our 21 Days of November draw winners. Donations to the United Way are still being accepted as we work to reach our goal. If you haven't had a chance to donate please consider how your support could help those in need.
In addition to goals of increasing participation and awareness about the importance of the United Way - this year's campaign is aiming to raise $750, 000 to help create real and lasting change in our community.  
The United Way of London & Middlesex announced a goal of $9.17 million for this year's community campaign, up slightly from last year's goal of $9.1 million.
---
United Way London & Middlesex announced
Dr. Karima Velji, Vice President Patient Care and Quality
, St. Joseph's Health Care London as its 2016 Campaign Chair. In this volunteer leadership role, Dr. Velji will champion United Way's 2016 Campaign, which supports a network of programs and services accessed by over 85,000 London and Middlesex County residents each year.
---
How you can help
Give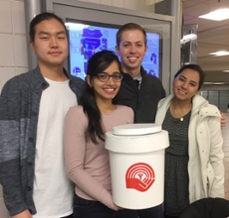 Thanks to students from the United Way Student Association for holding a Coffee Day photo contest. This caring team organized a draw to have students get their picture taken with their giant coffee mug for a chance to win a Hospitality Services gift card. Find out more at: https://www.facebook.com/UWSAWU/
When you support the United Way, your donation stays in London and Middlesex County. Your financial support is invested in programs that have the proven ability to change people's lives and helps make our community stronger, healthier and more productive.
Volunteer
The possibilities are limitless - get involved in your department's/faculty's United Way campaign or volunteer at a United Way funded agency. Bringing your own unique blend of talents and interests can have a dramatic impact on your community and as an added bonus you'll learn about yourself.
Act
United Way's Community Impact Agenda identifies that United Way can create change not only through investments in critical programs and services, but also through efforts to advocate and mobilize our community to understand and respond to key issues that matter right here in London and Middlesex County.
Learn More