News & Events
Your chance to become Western's Sponsored Employee - apply by June 8
The United Way's Sponsored Employee Program is a unique professional development opportunity supporting the advancement of knowledgeable, skillful, and productive employees, all the while helping United Way achieve its annual campaign goals for the community. The Sponsored Employee provides support in planning, implementing and monitoring fundraising activities that help the United Way in Elgin Middlesex create real, lasting change to improve the quality of life in our community.

The Sponsored Employee Program is a 16 week, full-time secondment, beginning on Monday, August 27th until December 14th, 2018. If you would like to be considered for this exciting and rewarding opportunity, review posting 13159 on the Working at Western website to learn more and to submit your application. This role is available for current, regular full-time Western employee, and is contingent upon approval from your leader.
Find out more about United Way Elgin Middlesex Sponsored Employee Program and read about the experiences of past Western Sponsored Employees.
Western announces 2017 campaign contribution
Contributions to Western's 2017 United Way campaign came from all corners of campus and when added together resulted in an outstanding total of $628, 524. Thank you faculty, staff, students and retirees for your tremendous support in changing the odds for those in need in our community.
Starbuck's Thursdays help Health Sciences support the United Way
Andrea Baker, United Way Champion in the Faculty of Health Sciences has a goal to bring new energy and commitment to the United Way in her area. One way she accomplishes this is through her Starbuck's Thursdays. Watch the video and get a sense of the commitment from our United Way Champions.
Campaign still needs your support
Eventhough the end of the year is almost here, your United Way volunteers are hard at work to try and achieve our campaign objective. If you haven't supported Western's Umbrella of Caring for the United Way we welcome your contribution. Donations can be made at: http://unitedway.uwo.ca/campaign/Donate.html Let's work to support the United Way's efforts to change the odds by funding over 80 local programs that support mental wellness, the development of successful kids and help community members to move from poverty to possibility.
Western's Super Team raises $8775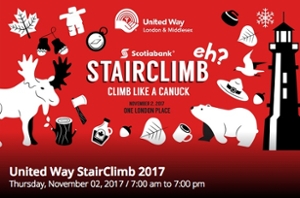 The purple wave made its way up One London Place in the 2017 United Way Stairclimb. On November 2, 89 Western staff, faculty and students climbed the 472 steps and raised nearly $9000 towards Western's campaign. Thanks to all those who climbed and sponsored climbers!
How you can help
Give
Early Bird Winners
Congratulations to our early bird prize winners for making a donation to Western's United Way campaign by November 2, 2017. Steven Kopp has won a FCM Travel Voucher and Ann MacPhail takes home a Church Key Restaurant Gift Card. 
When you support the United Way, your donation stays in London and Middlesex County. Your financial support is invested in programs that have the proven ability to change people's lives and helps make our community stronger, healthier and more productive.
Volunteer
The possibilities are limitless - get involved in your department's/faculty's United Way campaign or volunteer at a United Way funded agency. Bringing your own unique blend of talents and interests can have a dramatic impact on your community and as an added bonus you'll learn about yourself.
Act
United Way's Community Impact Agenda identifies that United Way can create change not only through investments in critical programs and services, but also through efforts to advocate and mobilize our community to understand and respond to key issues that matter right here in London and Middlesex County.