News & Events
Join the Launch
All campus community members are invited to Western's 2017 United Way Campaign launch. Join President Chakma and our United Way volunteers as Western unveils goals for this year's campaign.
Campaign Launch
Friday, Oct. 20 - UCC Atrium
11:30 a.m.
Let's work to support the United Way's efforts to change the odds by funding over 80 local programs that support mental wellness, the development of successful kids and help community members to move from poverty to possibility.
Join Western's Super Team at the SCOTIABANK STAIRCLIMB NOV 2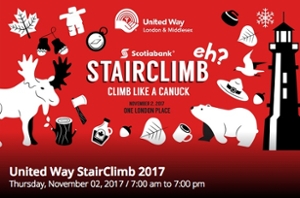 Captains should register first and choose Register a Team (For Captains) and then have their teammates register afterwards by choosing Join a Team and searching for the Team Name.
Each participant needs to select Corporate Super Team - Western University from the drop down menu.
Each participant should indicate Organization Name to be Faculty / Division (i.e. Faculty of Science OR Financial Services)
Each team of 6-11 people will be entered into a draw for a team prize.  Additional ballots can be earned for each $100 raised by each team.
We will be arranging buses to and from One London Place – departing campus around 4:30pm and returning at 6:30pm.  We will reach out to captains the week of October 23rd to secure numbers!!!
We would like to encourage as many Western StairClimbers to join our #purpleandproud initiative as we aim to climb between 5:15-5:30pm.
Living Well @ Western is hosting a series of StairClimb warm-ups in the Social Sciences Building every Tuesday and Friday from 12:20-12:40pm during the month of October. More information.
---
How you can help
Give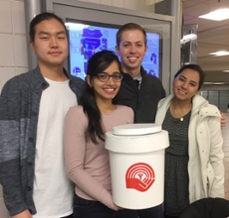 Thanks to students from the United Way Student Association for holding a Coffee Day photo contest. This caring team organized a draw to have students get their picture taken with their giant coffee mug for a chance to win a Hospitality Services gift card. Find out more at: https://www.facebook.com/UWSAWU/
When you support the United Way, your donation stays in London and Middlesex County. Your financial support is invested in programs that have the proven ability to change people's lives and helps make our community stronger, healthier and more productive.
Volunteer
The possibilities are limitless - get involved in your department's/faculty's United Way campaign or volunteer at a United Way funded agency. Bringing your own unique blend of talents and interests can have a dramatic impact on your community and as an added bonus you'll learn about yourself.
Act
United Way's Community Impact Agenda identifies that United Way can create change not only through investments in critical programs and services, but also through efforts to advocate and mobilize our community to understand and respond to key issues that matter right here in London and Middlesex County.
 ________________________________________________
Learn More